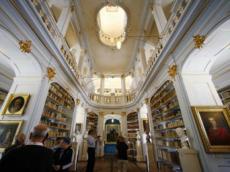 A historic library in Germany that was ravaged by fire in 2004 has restored 118,000 books including a 471-year-old copy of astronomer Copernicus' work in which he argued the sun, not the earth, was the centre of the universe.
The fire at the Duchess Anna Amalia library, a UNESCO World Heritage Site in Weimar, is believed to have been caused by an electrical fault.
Some 50,000 books were reduced to ashes, including works by Germany's most famous writer Johann Wolfgang von Goethe, who lived in Weimar and knew the duchess. 
Wellwishers donated 38.8 million euros ($51.9 million) to help the library rescue what it could from the damage caused by the fire itself and the water used to put it out.
Among the books damaged was Nicolaus Copernicus' "On the Revolutions of the Heavenly Spheres", in which the Polish astronomer, born in 1473, put the sun at the centre of the universe - a revolutionary theory that started a conflict with the Catholic Church and shattered the medieval worldview.
"I did not believe that we could restore so many books in such a short time" library director Michael Knoche said.
Some of the rescued works, including the book by Copernicus will go on display at the end of this month.
The 1543 Copernicus' edition includes annotations by its then owner, giving clues about how it was received.
Other rescued pieces include a Bible associated with Martin Luther, the 16th century Protestant Reformation leader, and the death mask of Friedrich Schiller, a German Romantic poet and friend of Goethe.

/Reuters/