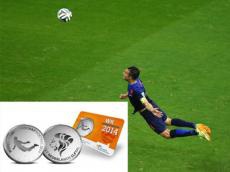 To commemorate the Netherlands defying expectations by reaching the World Cup semifinals, the Royal Dutch Mint is producing a limited edition coin featuring Robin van Persie's memorable diving header. Van Persie's goal was the team's first in their World Cup opener against Spain and has remained one of the lasting images of the tournament — even launching the summer's most popula meme.
Only 6,000 coins will be produced and all of them sold out within the first day of going on sale for €9.95 ($13.54) despite a limit of two per person. But since the coin is not legal tender, it will only have value to collectors.
Rumors of an Arjen Robben bank note that frequently slips out of your wallet and gently falls to the ground have yet to be confirmed because I just made them up.

/Yahoo/