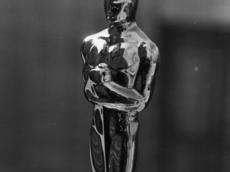 An Oscar for color art direction awarded for the 1942 film "My Gal Sal" sold for $79,200 at auction in Rhode Island late on Monday, more than double its high pre-sale estimate.
The golden statuette, which Briarbrook Auctions had thought would sell for $5,000 to $30,000 during the live and online auction, was snapped up by an anonymous telephone bidder from California. The price included the buyer's premium.
"Oscars are quite a rare commodity," Nanci Thompson, the owner of the auction house, told Reuters. "There just aren't many around."
The Oscar was sold by an heir of Joseph C. Wright, who won it for the film that starred Rita Hayworth and Victor Mature.
Thompson said there are perhaps less than 200 Oscars that have been sold since the first Academy Awards ceremony in 1929.
Oscars rarely come up for auction because since 1950 the Academy of Motion Picture Arts and Science, which hosts the annual Oscar awards, has required winners to sign an agreement. It stipulates that winners and their heirs will not sell the award before giving the Academy the option to buy it for $1.
Wright, who died in 1985 at the age 92, won his Oscar before the agreement was enforced. He was nominated for 12 Academy Awards during his career and won twice. He also took home an Oscar for best art direction, black and white, for the 1942 film "This Above All."
Thompson could not reveal the name of the buyer, who preferred to remain anonymous, but said if she could, the name would be easily recognizable.
"I can tell you that the Oscar is going back to California," she added.

/Reuters/