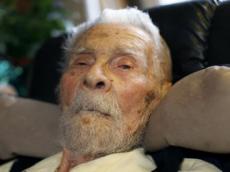 The world's oldest man has died in New York at age 111, according to the senior citizen residence where he lived.
Alexander Imich, who was born in Poland in 1903 and survived a Soviet Gulag labor camp, died on Sunday, said Marcy Levitt, executive director of Esplanade Manhattan.
Imich emigrated to the United States in the 1950s and was a scholar of the occult. He edited an anthology called "Incredible Tales of the Paranormal" in 1995 at the age of 92.
He turned 111 in February and, in April, assumed the rank of oldest living man, according to the Gerontology Research Group of Torrance, California.
That ranking now goes to Sakari Momoi of Japan, born on Feb. 5, 1903, one day after Imich, according to the research group.
Dozens of women were older than Imich, according to the group, and the oldest of them, Misao Okawa of Japan, is 116.
Imich had credited good genes for his long life.
"But the life you live is equally or more important for longevity," he told Reuters last month in an interview in his apartment on Manhattan's Upper West Side.

/Reuters/