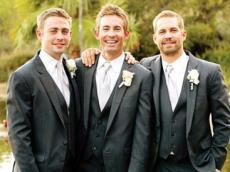 "Fast & Furious 7" has found a way to go on shooting without Paul Walker.
By using his brothers.
The "Fast 7" filmmakers announced today on Facebook that Paul's two younger siblings, Cody and Caleb, are on the film set to help finish some of the late actor's action scenes. Production was halted when Walker died in a fiery car crash last Nov. — just weeks after he attended Caleb's wedding as his best man (see above photo).
Cody Walker, in his mid-twenties and the youngest of the three Walker brothers, is a trained paramedic and now works with is late brother's Reach Out Worldwide charity. Caleb Walker is in his late thirties.
"Fast 7" filming resumed just a few weeks ago.

/Yahoo/