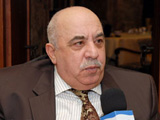 Health of Azerbaijani People's Artist, well-known actor Yashar Nuri got worse. The actor was hospitalized. His state is reported serious. The actor receives treatment in resuscitation department of Central Customs Hospital. Now he is senseless and can't speak.
Yashar Nuri's spouse confirmed the fact and said that his state was really serious: "Nobody is allowed to visit him. Everything is worse than expected. This case upsets us. He was receiving daily treatment after his jubilee held in the Academic National Theatre of Drama. He was going to the hospital. But now his health got worse. I know the reasons of it. His organism can't fight. There are the things which I can't announce".
Nuri's health got worse on September 15, he received treatment in the Hospital of the State Customs Committee.
The People's Artist also received treatment in Turkey's Istanbul Memorial Hospital.
/
APA
/