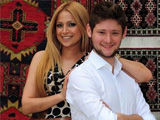 Winners of the international song contest Eurovision-2011 Eldar Gasimov and Nigar Jamal have taken part in London concert held at the Central Hall.
The concert was devoted to the 20th anniversary of the independence of Azerbaijan. The concert also involved Rast and Hezz0bank, including Elnur Husenov, Diana Hajiyeva and Jamila Hashimova.
The concert was organized by the Embassy of the Republic of Azerbaijan to the UK and The European Azerbaijan Society, supported by the Heydar Aliyev Foundation and the Azerbaijani Ministry of Culture and Tourism.
Reportedly, around 1500 people attended the event. During the visit to London, Eldar and Nigar gave interview to British journalists including of Esctoday.com and escxtra.com.
/News.az/
Eldar & Nigar interviewed in London: