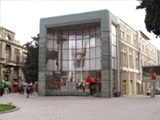 "Azerbaijan" cinema, located in the center of Baku and one of the most famous theaters of the country, has been put to privatization.
Gulu Khalilov, head of public relations at the Committee for State Property Management said that in accordance with the order of the President "On privatization of some enterprises and projects in health, education, sport and culture spheres" (August 23, 2006), together with other objects "Azerbaijan" cinema had also been declared open to privatization. According to his words, according to this law, after the privatization, in future, the cinema will continue to work on the correct profile.
According to the requirements, in future, as a result of invests allocated here, "Azerbaijan" cinema will continue to work as a cinema, that meets modern requirements.
/
APA
/