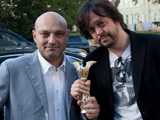 Azerbaijani director Fuad Ibdahimbayov received "Debut" award at film festival "Golden Phoenix". Movie "Letit" shot by Ibrahimbayov and his Russian counterpart Sergey Shvidkiy was demonstrated within IV Russian film festival "Golden Phoenix" held in Smolensk.
According to directorfest.ru, the Azerbaijani and Russian directors presented the film at Smolensk theater "Sovremennik" and then met with journalists at a press conference.
The jury of the film festival who conferred the award to Fuad Ibrahimbayov and Sergey Shvidskiy included Russian national artists Valentina Talyzina, Anatolia Kuznecova, Alexei Petrenko, producer Raisa Fomina and head of jury, Vera Glagoleva.
/1news.az/
Click to enlarge: