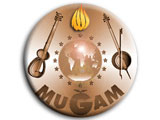 Today is the International Day of Azerbaijani Mugham and music day of the countries situated on the Silk Road.
Historical decision was adopted by the by mayor of Canadian city Niagara and leadership of annual International Niagara Music Festival. Mugham, which is one of the unique treasures of the mankind's oral and cultural heritage, started to enter into the sphere of the world culture in the beginning of the last century. In 1971, UNESCO included "Azerbaijani music" record into the collection of "Anthology of the world's traditional music" consisting of 50 albums. In 1975 the records of Azerbaijan's mugham were issued again in the series of "Musical sources" by UNESCO. Azerbaijan's mugham was sounded in the film of "Stalker" by Tarkovsky which was shown in the whole world. US National Space Agency (NASA) sent out a piece of mugham music, the national spiritual rich of Azerbaijan, to outer space in 1977.
The many-branched chain of measures taken under the leadership of President of Heydar Aliyev Foundation, UNESCO and ISESCO Goodwill Ambassador Mehriban Aliyeva play an exceptional role. By the decision of UNESCO, mugham was included into the row heaving human significance of the world culture's immaterial heritage.
The mugham contests were organized, "Karabakh singers" album was issued, "Mugham" magazine and "Mugham encyclopedia" were published under the auspices of the Heydar Aliyev Foundation. Eight-record multi-media collection "Azerbaijani mugham" based on modern technologies was prepared as the first tutorial in this field.
/
APA
/