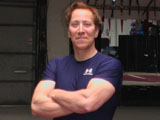 Up until this day, "Mortal Kombat" is the most popular computer fighting game. Kids all over the world were (and still are!) playing it. Back in the 90's, Azerbaijan was no different. 
I personally remember the so-called "computer halls" full of Sega Mega Drive's, where kids would sit and play MK2 all day long.
Now, time has come to meet one of those, who made this game what it is today. Someone, who's face was familliar to millions of Azerbaijanis, and pretty much to everyone else who ever played Mortal Kombat. Daniel Pesina, who agreed to do this interview, portrayed Johnny Cage (along with Scorpion, Sub-Zero, Reptile and Smoke) in MK games.
Master Daniel Pesina has been studying the martial arts since 1972. He began his formal training with Master Guo Jianhua in 1989 studying both external and internal Wushu. Master Pesina has also studied under many other Chinese living treasures and instructors including Hu Jianqiang (former Chinese National Champion), Zhu Bao Jian Bagua Zhang Grand Master, and Lin Jianhua, to name just a few. Pesina has competed both nationally and internationally. He has won numerous first places and awards in forms, weapons and fighting on the A.A.U., N.A.S.K.A., and U.S.A. KungFu/Wushu circuits.
His film and multimedia careers include starring roles in the Teenage Mutant Ninja Turtles movies and Book of Swords, as well as co-creator credits for the "Mortal Kombat" game. His image has been featured on the cover many magazines including "Time Magazine".
In the interview, Pesina talks about how the world's most famous fighting game got created, how it became popular, recalls the problems that appeared after the game became super popular, and what is Mortal Kombat today. Read on.
Mr. Pesina, according to your bio, you started studying martial arts in 1972. Was that a Bruce Lee influence, like many other martial artists had? What was the style you first began to study?
Yes, I was very influenced by Bruce Lee as Kato from the TV show Green Hornet. I was also inspired by my older brothers, Ruben & Tony, who took Judo briefly. I wanted to follow in their foot steps as all little brothers do, who look up to their older brothers. Our father, who is one of my hero's, took the time to take me to not only lessons, he took me to all the tournaments. Our parents do so much for us, we can forget in this age of multimedia. I think we should appreciate them a little more, after all ... it's our roots! So Judo was my first love of the martial arts. It was followed by a mainly large amount of Chinese based martial arts.
Please tell us how you got involved with Midway company. How did you get hired? Were you a programmer at the company?
My friend John Tobias wanted to make a fighting game. At this point it was going to be very low budget coin operated arcade game. The company was kicking around idea's (Midway) and I was known as a martial artist to friends. We briefly discussed concepts and things to research on our first meeting. I was not a programmer our working for Midway games. I was just a hired gun, so to speak with some creative input. As we had our meetings, ideas began to unfold. Some of the hire ups thought it would be a good idea to have JCVD (Jean Claude Van Damme) be the main character of the game. Essentially, make it his game. It was to much money to take the risk, so the idea went forward on a much lower budget. We would all have the good fortune to express ourselves.
According to the information on the internet, at first, Mortal Kombat was supposed to be a game based on Jean Claude Van Damme, and later it got changed into a tournament fighting game. Turned out to be true! You played Johnny Cage, which to some, looked like Van Damme. Was the character based on Van Damme?
My character/as Johnny Cage did kind of poke fun at JCVD, as well as all the big Hollywood star type. It was the first character shot and did the frame work for all the other characters ( all the way to present MK's).We had a lot of fun with it and all the characters. I remember help cleaning out a storage space that we would shot in later. It was not pretty, we made it functional. Then later, it changed into a big studio. I think it was for MK III. I was fortunate, friends creating/collaborating with friends. We never realized that it would get this big.
Aside from Cage, you also played other characters in MK1 and MK2. Would you please name these characters?
The other characters I played are Scorpion and Sub Zero. We shot these characters with the idea that they would have a lot of similar moves and a few to make them individual. With the time crunch to get the game out and because of all the material we shot, other characters would be developed out of it. Characters such as Reptile etc.
In the 90's there seemed to be only 2 martial arts fighting games that were miles ahead of every other games - Street Fighter and Mortal Kombat. Some claim that Street Fighter was "more technical, fighting wise" than Mortal Kombat, while the Midway creation was more vivid, with better graphics and gameplay. How can you compare these games?
I like the Street Fighter game. As far as realistic, MK all the way. The first few are video tapes of actual Martial Artist or Athletes. So the basic moves are very real to life and vivid. We did such a good job that later, non Martial Artist could step in and follow the basic formula. Only someone who trained could tell the difference. The should do a "VS" game if they could put the money aside.
Up until this day, some computer games related forums discuss that unpleasant incident that happened when you and Midway part ways. Wikipedia mentions 1996 court case where you sued sued Midway Games, Williams Electronics Games Inc, Acclaim, Nintendo, and Sega. Could you please tell us your point of the story, how did you part ways with Midway, and what was with that court case?
When i signed onto the game I was given not only a 3 paragraph agreement, also John Tobias and Ed Boon assured me it was only going to be available on a coin operated game console. I remember it vividly because I asked if I could buy one and they said only a limited Quantity would be made. We moved forward with the game and it became a big hit. When they sold the rights to a home video game I was assured that they would "take care of me". John was and still is my friend, he also never really took a stand for me. I feel the money and the company probably told him that he was the sole creator of the game. At that time I spoke to a few law firms and had one represent me, while they had 64 represent them. With the help of the law "Trade Secret disclosure" I can not see or comment on the defenses (Midway) view of the case. We lost most of the case, I only got credit for co-creating. No monetary award. I would recommend that any of the future game designers and artist reading this, get everything in writing and keep a good log of your creations. This will keep the honest people honest.
In 1995 a "Mortal Kombat" film got made. None of the actors who worked for Midway got parts in the film itself. In your case, Johnny Cage was played by a different actor (Linden Ashby) as well. Were you approached to portray Cage in the film?
What i was just talking about also affected the movie. The producer came to us and asked to video tape us interacting/fighting. We did some fight set that i choreographed. Later, he asked us to drop the suit and he would put us in the
movie
. At that point I said no, lack of trust I guess.
After the first film, there was "Mortal Kombat Annihilation", and right now a 10-episode tv series of MK:Rebirth are being shot. What is your opinion on the MK films in total? How true they are to the original concept/story/characters of the MK games?
As far as the concept and story of MK to the present day... It was very vague during the first shootings. The story was undeveloped because it was only going to be a coin op video game. It was developed as it got more popular. I had very little to do with the story. I only helped with the choreograph, regular and special moves. how to react/look like when you got punched or thrown. How to look like you are falling down a hole or fall like you died. That's why it was so good. The artist did the art work, the programmers programmed. The martial artist did the action. we all worked together. I feel I & II are the best, even the fans think so. If they let their egos go, the may be able to come up with something new. We see now what a little investment money can do to the franchise, something Midway games failed to do.
According to the latest information, you are a teacher/instructor at the Chicago Wushu school. Do people recognize you as the original Johnny Cage? I remember times here, when Azeris used to sit in these computer cafes playing MK all day...
Just at the beginning of this year a gentlemen from Germany came into the Guan and was stunned to meet me. He had a lay over in Chicago and had to come see me. I signed a few things for him and gave him and autographed poster. So yes, people recognize me for Johnny Cage (even though I was Scorpion and Sub Zero too). Thanks for your time and letting me share some great memories. To all of you "Create and express yourselves".
T. Teymur
/Today.Az/
Click photos to enlarge: