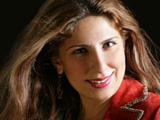 Laureate of international competitions, honored actress of Azerbaijan Fidan Hajiyeva will give a solo concert in Italy for the first time.
Hajiyeva said that the concert, devoted to the memory of national leader of the Azerbaijani people Heydar Aliyev, will take place on May 9 in one of the largest concert halls in Rome.
Hajiyeva noted "any opera singer dreams of performing on the Italian scene, including me, but I did not think this would realize so soon. Therefore I am preparing very seriously for the debut on the Italian scene."
Hajiyeva pointed out she had prepared very rich program which includes Azerbaijani romances, arias from operas and also popular Italian and French arias.
The singer said she attaches great importance to her forthcoming performance, calling it as a significant event in her creative work.
Hajiyeva added she considers that after this concert more interesting events would occur in her activities.
According to the singer, the concert is organized at the initiative of the ambassador of Azerbaijan to Italy Vagif Sadigov. Prominent Italian musicians, impresarios and others are invited to the concert.
"I am working very hard on Italian arias, and I do not want that Italian vocal experts find any mistake in performance of Azerbaijani vocalist."
The singer said at present she was given masterclasses by an eminent Italian vocalist. Hajiyeva also thanked her teacher with whom she worked for 18 years. The singer pointed out she had achieved everything in her activity thanks to her teacher, professor Huseyn Aliyev.
Hajiyeva informed that concertmaster of works of Azerbaijani composers in the solo concert will be Zulfiyya Sadigova, while concertmaster of works of Italian and French composers will be Italian specialists.
Hajiyeva also spoke of her future projects. The singer noted on May 25 she would act together with prominent Georgian tenor in the "Aida" opera which will be shown in Azerbaijan Opera and Ballet Theater and on June 3 with eminent French tenor.
/AzerTAc/