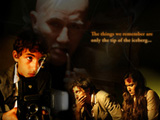 A special prize of the Moscow International Detective Film Festival was awarded to "The Precinct", a movie by Azerbaijani filmmakers.
"The Precinct""is a co-production between Azerbaijan ("Narimanfilm") and Georgia ("Georgianfilm" & "Bagira Films") which was developed within the framework of the Independent Film-makers' Association – South Caucasus (IFA-SC) training program.
The film starring Zaza Bejashvili (Georgia), Melissa Pappel (France), Vagif Ibrahimoglu (Azerbaijan) and others was shot by the Azeri film director Ilgar Safat. The movie unveils the mystical story of a famous photographer, who makes a trip to his childhood.
The production of the movie was funded by the Azeri ministry of culture and tourism and PASHA Bank.
Some 56 feature films, 29 detective films, 96 documentaries from 34 countries were screened during the Moscow International Detective Film Festival.
/AzerTAc/