Combining skill with modernism and her aptitude for style with ingenuity, Rachael is breaking new ground in the electronic and dance music industries.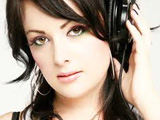 Producer, DJ and vocalist, there is little territory this young artist hasn't embraced. Rachael definitely feels the need to prove herself and work very hard at everything she does. As a result, Rachael now stands among the top ranking electronic artists, touted as a respected producer, exciting DJ and unique vocalist.
A native Californian, Rachael was brought up in a fairly musical household and informally trained in Piano, Cello and Voice. Her interest in dance music was first sparked circa 1992, when she discovered producers such as Orbital, Underworld and the Prodigy; and she has been hooked ever since. Throughout her life Rachael has had first-hand experience with how much music can influence a person. This knowledge, along with her desire to create music that made people feel the way the music she loved made her feel, ignited a passion for production and the soon to follow performance of DJing.     
Rachael's interest in computers and music clashed in the year 2000, when she sat down at the computer and produced her first song. She spent a good amount of time honing her production and engineering skills while dabbling in and mixing styles ranging from house and techno to downtempo and dream-pop. After creating and releasing a few EP's & remixes, Rachael made an unexpected move, deciding to add vocals to her music, and soon after released her first self-produced vocal tune 'Remember' in 2003.
Starr will perform in Baku tomorrow, in "World Fashion Club". Entrance price is 40 AZN, and 80 AZN.
/CityLife.Az/