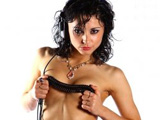 DJ-ing has always been the part and parcel of her nature, and after marrying DJ Vacoom, Miss Mikki chose this way once and for all. He became her navigator to this magnificent world of music. Though she didn't start working as a DJ right after she got her training, and just made mixes for her friends and just for her own pleasure, but in 2007 she finally decided to fulfill herself as a DJ. The DJ is set to perform in Azerbaijani capital tomorrow, at 23:00, in the "Best Club". Address of the club is - H. Aslanov str. 111.
Miss Mikki has always been easily involved in everything that is new and interesting – that is why she plunged into this world of music. Miss Mikki's carrier immediately rocketed up by leaps and bounds. Her sets are so energetic and powerful that even the people who have taken roots on their chairs at the bar counter, break themselves into a dance. Even the service staff beats time. Well, as for the music, it is intended to raise the spirits, but the craft of performing it plays the key role, and Miss Mikki is a real professional in this art. It is natural talent for sure! All her performances are divided in three parts.
Every 40 minutes Miss Mikki steps into the stage dancing and takes off some clothes and at the last entrance she performs topless. Will she do the same in Baku?
/Citylife.Az/