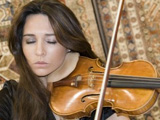 Outstanding Azerbaijana violinist Sabina Rakcheyeva and her ensemble of sensitive and dynamic performers create a unique voice through improvisations that fuse western and eastern instruments and styles, influenced by musical traditions of Azerbaijan and the Arab world, jazz and western classical music.
These compositions and improvisations explore new approaches to music-making and reflect an interest in music that goes beyond one tradition.
In this evening's Alwan debut performance, Sabina and her ensemble, featuring Alwan favorite Kinan Azmeh, celebrate the release this fall of their debut album, Toward the East. The event will take place in New York, on 21st of November.
Violinist
Sabina Rakcheyeva
is the first ever Azerbaijani graduate of the Juilliard School in New York. A member of the European Cultural Parliament, first recipient of the "Artist in Residence" Award from the Fund of Mutual Understanding in New York, she has appeared as a soloist with orchestras in Azerbaijan, Europe and the United States, performed in over forty countries around the world for the renowned musicians and cultural leaders as Mstislav Rostropovich and Daniel Barenboim and for the Presidents of the European Commission, Azerbaijan, Russia, Romania, United Nations Secretary-General and Prince of Liechtenstein.
In 2003, Sabina addressed the World Economic Forum in Davos, Switzerland on behalf of the Music Youth and was featured on BBC, CNN, Voice of America Radio and U.S. Government Television.
/Alwan for the Arts/