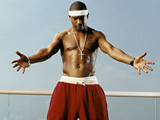 Below is a photo gallery of Ja Rule's concert in Baku.
----------------
October 28
13:46
On the 30th of October, legendary american rapper Ja Rule will give a concert in one of Baku's clubs.
Reportedly, Ja Rule has prepared a present for his fans. The concert will take place in World Fashion Club, in Baku. The ticket price is 150 AZN (with a table for 3 persons), 50 AZN (usual ticket).
/CityLife.az/