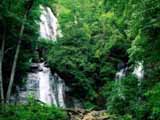 Children's and youth organisation "New talents", Public library named after N. Narimanov, information portal www.anayam.az together with the expert of management of ecology of State oil company Ramil Rustamov realises the project "I'm nature". We will mark that the project will pass in the framework of "Year of ecology".
The project "I'm nature" provides carrying out of ecological seminars, and also painting competitions in high schools. The project's purpose is increasing knowledge and skills concerning environment and its protection, and also revealing of talented youth.
The first seminar passed on May 8th in high school #162 of Baku. About 200 senior pupils were present at the seminar, which was hosted by the expert of ecology management of SOCAR, Ramil Rustamov.
On May 28th, in park named after Heydar Aliyev of Patamdar district, an exhibition will take place, wher the works presented on the project will be shown. On this day, the organization of the book exhibition is also being planned.
/Baku-Art.Az/