On 14 May 2010, a concert of traditional Azerbaijani music will be held in Vilnius, the capital of Lithuania.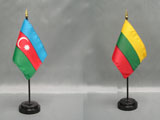 Guests of the concert will get acquainted with the mugam, traditional Azerbaijani music, which will be performed by the Azerbaijani mugam ensemble (Abgiul Mirzaliyev, Riavana Arabova, Ehtiram Huseinov, Sahib Pashazade, Togrul Asadullayev and Alipasha Talybov).
According to the Ambassador of Lithuania to Azerbaijan, H.E. Kestutis Kudzmanas, it is a unique opportunity for Lithuanian music lovers to experience the wonders of sounds of mugam, which has evolved during over a thousand-year old Azerbaijan folklore tradition.
Moreover, symphonic poems Leyli and Majnun (1947) and Don Quixote (1960) by the leading 20th-century Azerbaijani composer Gara Garayev will be performed by the Lithuanian National Symphony Orchestra, conducted by maestro Azad Aliyev, head conductor of Azerbaijan Television and Radio Symphonic Orchestra.
The concert is organized by the Ministry of Culture and Tourism of the Republic of Azerbaijan, Azerbaijan National Music Committee of the International Music Council the Embassy of the Republic of Lithuania to the Republic of Azerbaijan. It is also a joint event of Lithuanian National Philharmonic and Azerbaijan State Philharmonic which intensified their cooperation after signing the bilateral agreements in 2009.
In 2008 the Ministry of Culture and Tourism of Azerbaijan Republic and the Ministry of Culture of the Republic of Lithuania have signed an agreement of cooperation which formed the basis for further strengthening of cultural ties between the counties.
/Today.Az/