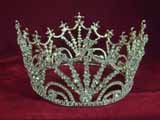 Lots of interesting things happening with the "Miss Azerbaijan-2010" Contest. Firstly, Melek Gasanova, who did not make it to the finals of "Miss Azerbaijan-2010", took it way too seriosly, and as a result a scandal broke out. The girl practically ran off the press-conference and was screaming out loud about the unfair jury.
Speaking of the girls who did make it to the finals are: Khanum Manafzade, Nigyar Aliyeva, Farah Amrahova, Nurida Aliyeva, Snejana Kryuchkova, Jeyran Halygova, Sonna Najafova, Katherine Barbukhina, Aysel Bayramova, Malika Farmanova, Jamilya Abdul, Gulnara Alimuradova, Elnara Kazimova, Ulviya Mamedova.
The finals will take place on 23rd of May in Heydar Aliyev Palace. Reportedly, popular italian band "Ricky e Povery" and romanian band "Morandi" will be performing at the event. Although, "Miss Azerbaijan-2010" has yet to pass the license on "Miss Universe", the first beauty of Azerbaijan will attend the main contest anyway. As for the jury of "Miss Azerbaijan-2010", reportedly there will be 17 members there.
According to the words of one of the jury's members director Ulviya Kenul, there is still some pressure being applied to the jury, although the casting has been finished already. "We are still receiving calls, people offer money, so a girl could enter the contest", U. Kenul said.
However, everything is going on just fine, and fair. Moreover, representatives of the media will be attending the event as well, and therefore there are strong measures being applied for the contest to be completely honest.
/Trend Life/