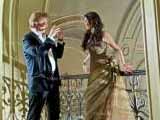 The three day creative process has finally come to an end. Done! Besides footage in the pool, Rupert Wainwright used two more different locations. On the first day the crew shot Safura's performance alone and together with the dancers. The total time spent filming equals to 16 hours on the first day and 21 hours of the second day – spent in the pool and in the Opera House.
"I didn't know what to expect from this job. All I knew before arrival was that I liked the song. But now I can say that I adore the singer too," said Wainwright. A globally recognized director, Wainwright is well-known for his movie Stigmata (1999) and the controversial and successful film made for Michael Jaskson – History.
For 10 different appearances in the Drip Drop music video, Tanya Gill, an outstanding stylist of the America's Next Top Model Show, collected dresses, shoes and jewelry in the Los Angeles, picking up the best models from designers around the world and the best Hollywood shops. Than upon her arrival to Kyiv, Tanya and Safura had a long fitting session to make their final choices.
"We had a lot of fun during the fitting. Safura is very talented and easy to work with. We easily found common language, " Tanya said.
A sparkling cocktail dress for studio shooting of rain and drops, the extraordinarily rich bathing suits for the pool footage, a romantic olive dress and a golden curvy outfit for the Opera House shooting – just a small insight into the great beauty of Safura's images.
"This song is very personal, so our task was to combine romantic looks with sexiness, and I think we've had the best solution for that," said Tanya.
The final important element of the Drip Drop music video that should quite impress the audience is the performance staged byBeyonce's choreographer JaQuel Knight. Without a doubt, JaQuel is one of the most successful commercial chorographers, worshiped for Beyonce's Single Ladies music video and the I AM tour.
"We illustrate the story of the girl that wants to be in love, but the guy is just not that into her. And the choreography showcases that story. This comes up to the mix of contemporary and urban styles," said JaQuel.
"Safura is a great dancer. She moves very nicely, it just comes from her soul, very natural and organic," he adds. To make the show even more impressive, some of the best Ukrainian dancers, 4 girls and 4 boys, were invited by the producers.
The international celebrity team of Rupert Wainwright, JaQuel Knight and Tanya Gill is working together for the first time. They were invited to Ukraine on behalf of the Azerbaijani broadcaster ITV by the Euromedia and Luxen Group of Companies.
To get an idea of how grueling the process was, check out the latest picture gallery!
/Eurovision Talents/

Click photos to enlarge:



The Opera Theatre Shoot
The Pool Shoot
Photos: Eurovision Talents