Azerbaijani singer participates in the annual competition of French songs for authors, composers and performers held in Belgium every two years.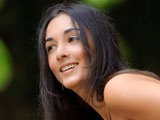 It's a contest for those who compose music, writes words for them, and performs them himself/herself by musical instrument and sings. The contest entitled "La Biennale de la Chanson Francaise" is being held for the ninth time.
As many as 210 candidates have applied to participate in it this year.
But the competitive selection, which started on April 2, selected only 40 individuals. Among them is Azerbaijani Nazrin Afendiyeva, who lives in Belgium. She joined the competition under the stage name Nezrine. She will perform in the Cabaret aux Chansons in the heart of Brussels on April 17.
Nazrin will perform 5 of their songs in French in the category Variete Francaise (the French music scene).
Day.Az