Azerbaijani participant of the "Eurovision 2010" Safura Alizadeh answered questions from readers of "Komsomolskaya Pravda".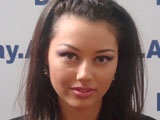 Do you have a mascot?
My audience is my mascot.
Safura, and you're in love now?
No, I am not. Not yet.
What is the most beautiful place in Baku? Where would you recommend to go?
The most beautiful ... Well, it's all beautiful. I would recommend to go to the Old City (Icheri Sheher). It is very beautiful.
What should a guy do to interest you?
Oh, I dont know, he has to do something though. I think if he is talented, I'd be interested in him.
Your favourite book?
"Twilight". I also loved reading "Harry Potter" when i was younger. But I prefer watching movies instead.
Has anyone ever devoted a poem to you?
My sister did!
Who are your parents? What is the most valuable thing, in your opinion, they taught you?
They have taught me everything. Dad - the artist, and my mom is a musician. She is also a fashion designer. They taught me everything.
Where would you take your quests in Azerbaijani capital?
I would like to show them the city, the Maiden Tower. In general, our sights. A lot of things. I would have them well fed. We have a very tasty cuisine.
Have you ever done anything extreme in your life?
I have a certain fear of things. But when you're insured, then it's a go! Although, nothing like that happened to me yet.
What plans do you have for your solo career?
At the moment I can't really say. Well, its an album release, promotion. I'll try to become a real star.
Do you sit on diets to look good?
No, no diets. I love to eat. I think it's right. I am a singer and should eat to be strong and full of energy. If needeed to, I'll sit on a diet.
Do you have a great song and a great preparation for the "Eurovision". It is obvious that you have a team of professionals. Do you always achieve the desirable? Was it difficult to win the final selection?
Thank you for the kind words. A man must love what he does. We have to reach for our goals, and not to be afraid.
What are your hobbies and whom you wanted to be as a child?
As a child I dreamed of becoming a singer. I loved music since i was 3. When i was born, I could not even sleep without music. I have my goals - it is music and love. I am very goal-oriented. If I want something - I'll strive for it.
What do you think of the" star fever" Do you have it?
There's too much talk. No such thing as "star fever" here. Arrogant people have it, I dont. If a man cant find time for friends because of the work, or if you dont devote time to those who surround you - its not "star fever". However, if you keep praising yourself on every corner - this is the real "star fever".
Last year at Eurovision, Azerbaijan took a solid 3rd place. How do you see your own chances at this year's Eurovision?
Last year's win was great. Both Aysel and Arash were welcomed at the Baku airport with flowers and such. It was wonderful. As for me, I am ready to do all the necessary in order to adequately present my country.
/KP.ru/