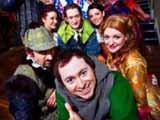 A British play "One Small Step" will be staged during April in Azerbaijan State Russian Drama Theatre named after Samad Vurgun, the theatre reported. The author of the performance to be staged by Oxford Playhouse Theatre is David Hasting.
The performance is about a dog that was sent to space, and about a man who flew to the moon. The play "One Small Step" is a rich work from the standpoint of emotion, sharp moments, epic success and humor.
Note that the performance will be realized within the framework of a cooperation of the British Council and the Ministry of Culture and Tourism.
The play will be staged in English and be interpreted simultaneously.
/Baku-Art.Az/