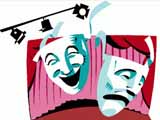 Ganja State Puppet Theatre will leave for Turkey to participate in a festival, according to the director of the theatre Bayram Fataliyev.
The festival will be held from May 31 to June 7 in Ordu, Turkey. The theatre will stage the plays "Agja and Saryja", "The Songs of Dolls" during the festival.
The festival will be attended by art representatives from the different districts of Turkey, as well as other countries. At present the theatre is holding the rehearsal of a new play "Beautiful Fatma" for April-May.
/Baku-Art.Az/