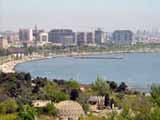 Department of Culture and Tourism of the Baku city is planning to repair 29 subordinate institutions and build a new center of culture this year.
Some 29 institutions will be overhauled through the funds of the Ministry of Culture and Tourism, the Baku Executive Power and the local budget.
"The list includes two music and art schools, two museums houses, nine libraries, the Gorky Central City Mobile Library Foundation, Vahid Library-Museum, 12 cultural centers, as well as the building of a new cultural center in Bina settlement," the statement said.
Repairs are underway in some of the institutions. Complete overhaul of all cultural institutions are expected to complete by the end of the year.
/Abc.az/