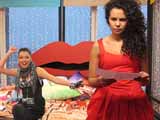 Upon arrival to Kiev, Safura was whisked away straight to the TV studio where M1 music TV network morning show 'Gutten Morgen' was shot.
Even though the hosts, pop diva Nastya and her counterpart, rugged rapper Potap are hosting the show for a few months now, it shows that these guys are hardly used to getting up at 4 AM.
On the contrary, SAFURA was ready to dive into a deep end and looked rested, focused and ready to rock!
/Eurovision Talents/