As we reported before, "Buta-Palace" hosted a concert of one of the most famous DJs in Europe, David Vendetta on March 20. While in Baku, Mr. Vendetta spoke briefly to one of our journalists.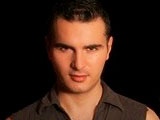 Mr. Vendetta, you've been here last summer, what changes has Baku gone through since your last visit?
Well, there are no particular changes since my last visit, speaking of the concert arrangement and a warm welcoming. You know, it's like i never left Paris - the weather here is pretty much the same. Besides, if the heart is warm, everything else doesnt really matter.
What is your opinion on Alim Gasimov (worldwide known Azerbaijani mugam musician)? What is your opinion of him?
He truly is an outstanding person. He is like a grandfather, with every youngster wishing to be his grandson. I've always wanted to have such a grandfather. And his voice - its just fantastic.
How're the things going on with your music composition with him?
Oh, just great. I've included this composition into my album. In fact, this composition has been heard everywhere, starting from Europe to U.S., and i plan to spread it even wider. I am very proud of being the first DJ to do something like that. No one before me has mixed electronic music with ethnical. To make it more listenable to europeans, i've included an englishwoman in there as well. She is sort of a bridge between my music and the voice of Alim Gasimov. His voice mixes with english speaking.
Seems like you dont regret doing all this...
Absolutely not. If i've had any doubts, i'd never started it in the first place, and everything would just stay right there, in the studio. I am sure this composition will be of much success. Moreover, we plan to shoot a clip to it, and Alim Gasimov will be in it, standing next to your Maiden Tower! The clip itself would be ready by the mid of April. So, yes, I am very satisfied.
During your last visit, you pretty much didnt see anything but the sea. Did you manage to see the city during this visit?
Yes, i pretty much saw Baku in all its glory. So much is being built, and the airport roads are great. You know, there are countries much richer than Azerbaijan, but none of them invests so much money into their capital, as it's done here, in Baku. Take Moscow for instance, there are no such big scale constructions going on there, it's been the same for quite some years. And Baku seems to be changing by the minutes!
Is there anything you did not like here?
Well, in fact i did like everything. Very delicious food, very warm hosting, beautiful women. We'd pretty much like to be hosted the same everywhere else, like we are in here.
V. Vugarli