The Polish Embassy in Azerbaijan held an awarding ceremony where young talented Azerbaijani pianist Narmin Najafli was awarded a diploma and presents by Polish Ambassador Krzysztof Krajewski.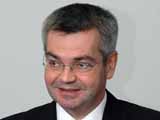 The Polish Embassy together with the Azerbaijani Culture and Tourism Ministry organizes the Chopin festival for talented young pianist as part of the Chopin Year in Azerbaijan.
The award ceremony was attended by the mother of the young pianist and her honored teacher Adila Rakhimova.
"In early May, the embassy plans to hold concerts of Chopin in the Azerbaijani regions in order to familiarize the Azerbaijani people with the music of the great composer," Krajewski said.
We are honored that such talented musicians perform so sincerely the music of the Polish composer, he added.
/Trend News/