"Adults talk in various languages, but children cry on one" is one of slogans of organization "Happy future for children".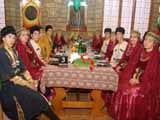 Yesterday, at restaurant "Mugham Odjaqi" with organizational assistance of the organisation "Happy future for children", the State committee on problems with family, women and children, and also "YAP" party, celebratory event has been carried out  for orphan children. Within the frames of event invalids have acted as well children with Down syndrome.
Ombudsman Elmira Suleymanova having made speech has congratulated all children with holiday. The national actress Tarana Muradova, deserved actress Tunzala Agayeva, Manana Japaridze, Lala Mammadova took part in the concert program.
/Baku-Art.az/