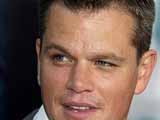 Gary Ross has attached Matt Damon to a film about John F Kennedy's younger brother Robert, who overcame the shadow of his sibling's assassination to forge his own political career, only to die by another assassin's bullet in 1968.
Ross has set up a deal with production company New Regency with Damon likely to sign on to the lead provided he likes the script.
That at least should be solid, since Eastern Promises' Steven Knight – who is also working on an adaptation of Dan Brown's The Lost Symbol – has agreed to write it, adapting Evan Thomas' Kennedy biography His Life.
If he agrees to the role, it would be Damon's latest stab at a real person after rugby captain Francois Pienaar in Invictus and Mark Whitacre in The Informant!, and would allow him to take his native Bostonian accent and step it up a few notches.
/Empire Online/