Roman Polanski won the Silver Bear as best director for The Ghost Writer, his film starring Pierce Brosnan, Ewan McGregor and Kim Cattrall, which premiered last week at the Berlin International Film Festival.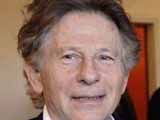 The 76-year-old director was unable to attend the premiere screening or the awards ceremony in Berlin because he cannot leave his home in Switzerland.
He remains under house arrest in his villa in Gstaad while the Swiss justice system considers the legalities of his extradition to the US over his conviction of having sex with a minor in 1977.
Alain Sarde, producer of The Ghost Writer, accepted the award for Polanski, saying, "I am sure Roman will be very happy."
He added sardonically, "However, when I was lamenting with him that he cannot be with us, he said to me, 'Even if I could, I wouldn't because the last time I went to a festival to get a prize, I ended up in jail.' "
Polanski was referring to his arrest at Kloten Airport last September after he arrived to accept a lifetime achievement award at the Zurich Film Festival.
The 60th Berlin International Film Festival closed today in Germany.
/People/