Pamela Anderson has never been scared of whacking the big ones out but surely this recent image shock pushes even Jordan's boundaries.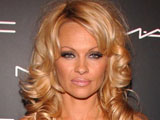 The 42-year-old mum-of-two looked super-hot as she strutted her way down the catwalk for the Richie Rich A-Muse Autumn/Winter 2010 collection in New York's Fashion Week.
However, wearing a sparkling silver swimsuit that resembled two belts strapped across her not-so-private bits, surely the time has come for her to think about the embarrassment and mortification she's imposing on her young children who are bound to be hearing playground digs about their Playboy mummy.
/Metro.co.uk/
Click pictures to enlarge: