Kathryn Grayson, the star of numerous 1940s and 1950s MGM musicals, has died at the age of 88.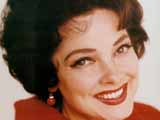 According to Reuters, she passed away in her sleep at her Los Angeles home on Wednesday.
Grayson starred in the musicals Anchors Aweigh, Show Boat and Kiss Me Kate.
"She was a lady of class and quality, with the greatest sense of humour conceivable," said Sally Sherman, who had worked with Grayson for 31 years.
Later in her career, the actress and singer switched from films to stage opera singing. She performed in Carnegie Hall, and in 1962 she replaced Julie Andrews in the Broadway production of Camelot. Grayson won critical acclaim for her performance in the hit touring stage show.
/Digital Spy/