Kate Moss has revealed that she feels she is "blagging" her career in fashion.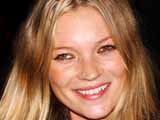 The supermodel - who has worked on a series of high-profile campaigns for the likes of Calvin Klein, Chanel and Burberry - admitted that she is shocked at her level of success in the industry.
She told Grazia: "I still can't quite believe it, even now. I still think I'm blagging it a bit but nobody's cottoned on yet."
Discussing the level of media attention she receives, the 36-year-old confessed that she sometimes struggles handling the tabloid scrutiny.
Moss explained: "Sometimes, I don't like it, but then I've got to deal with it, so I do. You know, I just wanted to be good at my job, I never wanted to be famous, but that happens to come with it.
"I'm still having a wonderful time modelling. In career terms, things have never been better. Modelling has given me insights and experience that I can now use in other ways."
/Digital Spy/