One in, one out: Al Pacino is joining Son Of No One, sliding into the role recently vacated by his old mate and occasional co-star Robert De Niro.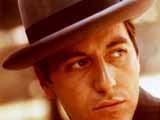 Pacino will star alongside Channing Tatum in the police thriller, which finds a young plod assigned to a beat in the working class neighbourhood where he spent his younger days.
But while it sounds like he'd be good at the job – what with knowing the local streets – an old, ugly secret threatens to bubble up and destroy his life and his family. Provided they lock down deals, Howard, Katie Holmes and Ray Liotta are all lining up to co-star.
Fighting director Dito Montiel wrote the script and is planning to start shooting next month.
/Empire Online/