Madonna is believed to be in talks to design her own clothing line.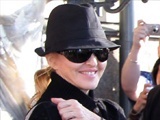 The singer - who previously created a limited edition range for high street store H&M in 2007 - is reportedly considering whether to agree to an exclusive range with Macy's.
Prospective titles for the label "include Material Girl for the apparel and Truth or Dare for the lingerie and underwear".
Representatives for both Madonna and Macy's have refused to comment on the rumours.
The 51-year-old recently starred in several adverts for Italian designers Dolce and Gabbana.
/Digital Spy/