Zac Efron reportedly swam for five minutes at Bondi Beach today.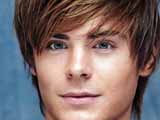 The High School Musical star, who was flown to Australia by sunglasses company Oakley to front its 'Learn to Ride' promotion, decided not to take part in the sponsored learn-to-surf session.
Efron was driven onto the beach from restaurant North Bondi Italian accompanied by security guards, while his girlfriend Vanessa Hudgens stayed inside the establishment.
The 22-year-old actor swam and chatted to pro-surfer Layne Beachley but was believed to be too shy to try standing on a surfboard.
Hundreds of screaming girls apparently shouted "I love you" at Efron as he entered the local surf club to change into a swimming shirt and stopped to give one fan a hug and a kiss.
The event was organised by Oakley to raise awareness for its OneSight Foundation charity, which aims to help improve vision for those in need throughout the world.
/Digital Spy/