Jordan has demanded new hubbie Alex Reid undergoes surgery to make him 'perfect' for money-making second wedding snaps.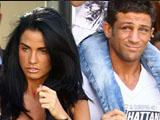 Being a cage fighter, her new beau is bound to have inherited a few lumps and bumps along the way but this is not good enough for Disney princess Katie, 31.
Reid's friends said that he is 'scared' and that Katie has 'been making him paranoid about his ears.
'They've been bitten many times and she says they should be pinned back or, ideally, reconstructed.'
The busty glamour girl has made plans for the headline-grabbing pair to have Botox in LA together this May – just in time to be fitted in before their £3 million wedding that is set to be an eye-fest.
Either Katie really is living in her fairytale dream world where everyone has to be 'perfect' or she is incredibly insecure with her and her loved one's images.
Only last week she felt the wrath of ex-hubby Pete who expressed his 'disgust' at Katie's latest antics in sexing up their two-year-old daughter Princess and positing it on Facebook.
/Metro.co.uk/