Kim Cattrall has insisted that she has no regrets about never starting a family.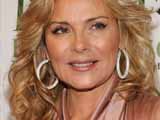 The 53-year-old has been married three times, with her final divorce coming in 2004 following a six-year relationship with producer Mark Levinson.
The actress ended her last romance when she split with chef Alan Wyse last year, which she later blamed on her heavy workload.
However, Cattrall maintained that she is fond of the life she leads.
She told the Evening Standard: "I don't regret [not having children]. It's fine, it really is. I'm a pretty good auntie and I have a lot of friends with kids. At the end of the day I like to go home and be quiet and have time to relax."
/Digital Spy/