Actor Louis Gossett Jr has reportedly been diagnosed with prostate cancer.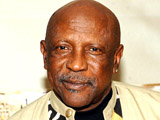 The Oscar winner released a statement today revealing his struggle with the disease, reports Entertainment Weekly.
In the statement, the 73-year-old said that he decided to go public with the illness "to set an example for the large number of African-American men who are victims of this disease because of the comparatively low emphasis in our community on preventative examinations and early treatment".
Gossett has begun treatment for the cancer, which is in its early stages.
/Digital Spy/