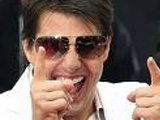 Stunning! Revelatory! Shocking! Tom Cruise has signed a deal to star in Mission: Impossible 4! Okay, so you can probably smell the sarcasm there. But until yesterday, it wasn't a locked deal – while Cruise was producing the next film with JJ Abrams, but though he was expected to return, he hadn't signed on the dotted.
Now, though, Paramount looks to be going full steam ahead on the next Mission, with Josh Applebaum and Andre Nemec already busy on the script and the studio on the hunt (no pun intended) for a director – Abrams is not returning to the helm –  so the film can be slotted into Cruise's schedule as his next job.
The reason for the rush? As seems usual these days, this thing has a release date before a frame has been shot – Paramount wants to launch it in cinemas (in the States, though it'll likely be day and date) over the Memorial Day weekend. Better known as Friday 27th – Monday 30th to the best of us.
"Tom and JJ are great talents and we are excited to be working with them to re-launch this legendary franchise," Paramount Pictures boss Brad Grey tells Deadline Hollywood, which also reports that the new deal means the cost is being spread around various production companies. The ol' belt-tightening continues, but you know they're just saving a few dollars to make things go boom.
/Empire Online/