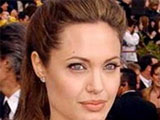 Angelina Jolie has reportedly visited survivors of the Haiti earthquake.
According to The AP, the Changeling star toured the Dario Contrera Hospital in the Dominican Republic yesterday, where people affected by quake are receiving medical care.
The hospital's spokesperson Dario Manon claimed that Jolie "spoke with several children and a Haitian woman who recognised her and requested help".
She was reportedly joined by Gonzalo Vargar Llosa, a representative for the UN High Commissioner for Refugees.
Jolie and partner Brad Pitt pledged $1 million to aid the earthquake relief effort last month.
/Digital Spy/