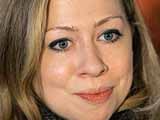 There are wedding bells in Chelsea Clinton's future – but what about a wedding dress?
According to her mother, Secretary of State Hillary Clinton, that's still a work in progress.
"If you don't tell anybody, Candy, we're still looking," Clinton joked during a wide-ranging interview with CNN's Candy Crowley that aired Sunday. "I don't have a dress yet, and Chelsea doesn't either. We're working on it."
After discussing everything from Haiti to health care, terrorism and President Obama's position on North Korea and Iran, Clinton answered a few lighter questions. Describing herself as a "proud MOTB" [mother of the bride], Clinton said, "It's a new status for me being an MOTB but I am very proud to have that status."
Crowley then jokingly asked which is harder, negotiating Middle East peace or negotiating this wedding? "I'd probably call it a draw about now," Clinton said, laughing.
Chelsea Clinton, who is engaged to childhood friend Marc Mezvinsky, is expected to marry this summer. A date has not been made public.
/People/