Keith Urban has revealed that his wife Nicole Kidman influences his work.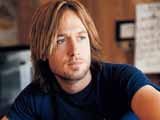 The country singer told People that she has inspired him to write several songs.
"It's been a profound impact to meet somebody who offered me a life and helped me become the person I want to be," he explained.
Urban went on to reveal that his track 'My Heart Is Open' had been based on something Kidman said after they had been on a few dates.
"My wife and I had been out a couple of times and I wondered how she felt about me," he said. "It came out as, 'How is your heart?' She said, 'It's open'. My God, what a beautiful answer."
Urban also claimed that his daughter Sunday Rose will help him write his next album, adding that she has given him "a new joy, a new sense of purpose".
Urban recently performed a duet with Kidman at an awards show.
/Digital Spy/