Rihanna has reportedly revealed that she is giving herself ten years to find true love.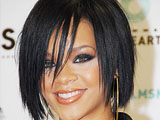 The Rated R singer - who was recently linked to Los Angeles Dodgers baseball player Matt Kemp - insisted that she is still single, but is hoping to find a life partner by the time she hits 30.
"I'm not dating anyone - I'm single," Female First quotes the 21-year-old as saying. "I'm hoping to find love before I'm 30, which is almost a decade away."
However, the star went on to confess that she is yet to have a relationship in which she is fully committed, adding: "Even when I was in a relationship, I always have gone alone."
Rihanna attended the recent Grammy Awards alone.
/Digital Spy/