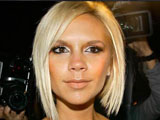 Victoria Beckham has revealed that she was once starstruck by actor Geroge Clooney.
Speaking to Glamour, the former Spice Girl said that Clooney is one of the only celebrities who makes her nervous.
"Nervous in a good way. I [once] shared a plane with George Clooney. I still get excited," Beckham said.
She added: "My mum and I said, 'Oh my God'... I'm leading an extraordinary life. I never try to be too cool about [it]."
The 35-year-old added that she spends most of her free time with her children.
/Digital Spy/