Cynthia Nixon will be honoured by the Gay & Lesbian Alliance Against Defamation during its 21st annual Media Awards.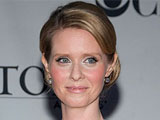 According to People, the Sex and the City actress will be given the 'Vito Russo Award', which is presented to a person in the public eye who has taken a stand for equal rights.
Nixon is known for coming out as gay and for her relationship with a woman making headlines after she'd been married to a man.
AMC's acclaimed period drama Mad Men, HBO's hit vampire show True Blood and ABC's new generational comedy Modern Family, along with singers Lady GaGa and Adam Lambert, are among the top contenders.
Nixon will receive her award at the New York ceremony on April 17.
/Digital Spy/