When Madonna and Sean Penn were spotted together at a tony New York City restaurant on Thursday, rumors swirled that the former Mr. and Mrs.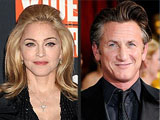 Penn might be rekindling their romance.
Not so, according to Madonna's longtime publicist Liz Rosenberg, dismissing reports the pair, who divorced in 1989 after a stormy four-year marriage, lingered over a cozy, three-hour-plus dinner at Adour at the St. Regis Hotel.
"Madonna was at the St. Regis having dinner with friends," Rosenberg tells PEOPLE.
"Sean stopped by the table to say hello. He sat for ten minutes and then left. Madonna continued with her dinner. That's all it was."
Madonna, who has been linked most recently with model/DJ Jesus Luz, is divorced from her second husband, Guy Ritchie.
Penn's wife, Robin Wright Penn, filed for divorce from him in August.
/People/