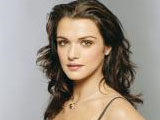 Rachel Weisz has revealed that her 3-year-old son Henry is obsessed with breasts.
The About A Boy star, who is engaged to film director Darren Aronofsky, said that her child thinks that she has the biggest breasts in the world.
Weisz told Esquire magazine: "He's really into firemen - and women's breasts! He just talks about them all the time. It's very sweet, he thinks that I have the biggest breasts in the world. That's a son's idolatry of his mother, that I'm the biggest and the best."
Talking about Henry coming to see her perform in London play A Streetcar Named Desire, Weisz added: "His dad brought him in after a matinee to watch the curtain call and he figured out bowing and getting claps.
"So, yesterday, he put on his policeman's outfit and bowed. That was the show. I hope he's not an actor - I'd dissuade him as hard as I could."
/Digital Spy/